GLEN ESCOT - BARKERVILL'S STAGE COACH DRIVER
Restoring a stage coach is one thing, but, where, in the twenty-first century, do you find a driver?
Probably the last place one would look is among a North Vancouver family of tug-boat operators. Yet that's the background of Glen Escot, or Happy Hamilton, as he's known when he holds the reins. Tow boats never appealed to Glen, he was always drawn to horses. At 14 he left home to work on ranches in the Chilcotin, spending much of his time both working and going to school in Anaheim Lake, He was 16 when he harnessed his first team.
Glen's held many odd jobs; truck driver, paramedic, construction worker; but always kept his hand in with horses and livestock. And, he's well acquainted with Barkerville. From 1986 through 1990 he worked as a security guard there. The last year he worked security, 1990, was the year they brought they brought the stage coach back to Barkeville. On his days off he drove stage for Mr. Cushman who had the contract. "Going back to handling horses", says Glen, "was like riding a bike. It all comes back to you."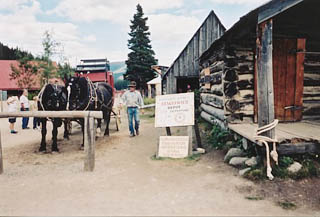 Reno, Vegas, and driver Tom Haws
Photo courtesy of Trudy Frisk
As for driving stage coach, "It's one of those things, that, when I was younger, I didn't think I'd ever get paid to do!" Known as a good driver, he was sometimes called to drive stage coach or freight wagon at Hat Creek Historical Ranch.
In 1991 Glen quit his security job and went to work as a full time stage coach driver. After a couple of years driving for Frank Cushman he worked four years for Bob Smith, the new operator.
He tried running a horse and carriage venture in down town Kamloops and at Sun Peaks ski resort. Kamloops tourists just weren't as horse oriented as Barkerville visitors.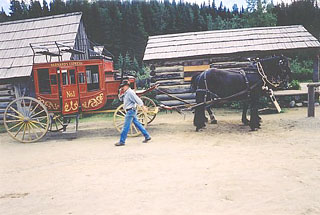 Reno, Vegas, and driver Tom Haws
Photo courtesy of Trudy Frisk
In 2000 Glen successfully bid for the stage coach contract in Barkerville where he'd driven a decade earlier. When he got it he had three weeks to get organized; from the second week of April to May 1st to have the horses in their stables and ready to go.
With the help of close friends Dick Holmes and Jonathan Fox who leased horses and tack and lent vehicles to haul them, says Glen, he was ready to start the stage going round and round on opening day.
Glen tried several horses before settling on the ones which pull the stage and freight wagon today.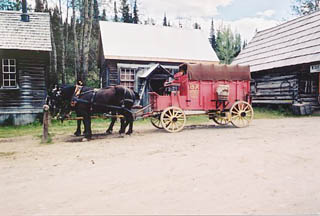 Barnard's Express freight wagon with horses Doc & Rocky
Photo courtesy of Trudy Frisk
One team, from Alberta, ran away with the freight wagon. Back they went to Alberta. The team of Belgians which replaced them had real personality conflict. The older horse didn't like the younger and made its life miserable. Andy, a retired mixed draft horse, was recruited to haul the freight wagon. One night, by chance, after Andy'd gotten new shoes, he was put into the pen with the cranky Belgian. Nobody knows what started it, but Andy put the horse shoes to the Belgian. It was a chastened horse after that. Andy got the day off in recognition.
Horse problems had settled down by 2001 when Reno and Vegas, Wilhelmina and Kandace worked in Barkerville. Like all horsemen, Glen has his favourites. He mentioned that Clyde was one of the first horses he tried out. "Oh, he's a Clydesdale." I commented cheerily. Glen gave me the disgusted glare a Ford man would bestow on a car dealer trying to sell him a Datsun. "I would never work with Clydesdales. Clyde is a Percheron!" So are Rocky and Doc, the back up team. Get a good brand and stick with it is Glen's motto.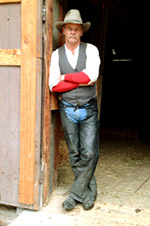 Photo courtesy of Grandell Studios
The stage coach and wagon are owned by Barkerville Historic Town. Glen is responsible for supplying drivers, horses, harness and feed, and any expenses connected with them. Which can be considerable. Shoeing costs $350.00 a team. The first team was shod three times during the season, the second team twice. Each horse requires a bale of hay and gallon of grain every day.
As the late Mr. Barnard could attest, being a stage coach owner- operator is hard work. Glen had 6 days off in 2000 and 8 in 2001.
His best asset, he insists, is Tom Haws, who for 34 years was top hand , on the Douglas Lake, Stump Lake and Quilchena ranches. Tom drove stage coach for Mr. Cushman for 2 years. In 2000 Glen lured him away from horse logging to drive again.
Glen's 21 year old son, Cory, also drives when he's not working as a chef at Becker's Lodge on Bowron Lake.
Any stage coach driver, Glen notes, has to be a person with horse sense, able to see what may or may not spook a team. "Horses," he points out , "are creatures of habit. Sometimes the driver has to change the route so their world looks different."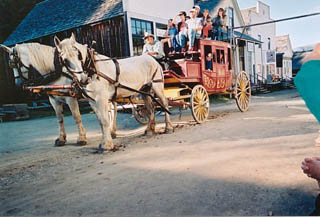 Horses Willie (Wilhelmina) & Kandi (Kandace) with driver Caleb
Photo courtesy of Trudy Frisk
In winter a sleigh is added to the Barkerville transportation system. For 10 days before Xmas Glen gives sleigh rides, complete with carol singing and hot cocoa, to visitors who want to experience a Victorian Xmas in Barkerville.
Glen, like other Barkerville interpreters, wears authentic 1860s costume and adopts a Barkerville personality, James Hamilton, when he drives. There really was a James Hamilton. During the years Glen worked security he had access to the archives and throughly researched the history of Barnard's Express drivers. James Hamilton not only worked for Francis Barnard, he eventually bought into the business. With his partner, Steve Tingley, Hamilton owned 25% of the Express. Hamilton died in 1876 leaving no traceable descendants.
Not much is known about him, so Glen is free to embellish his character. He's proud of the fact that neither the original driver nor his latter day counter part have ever had an accident with the stage.
Even when Glen's not driving he promotes Barkerville history. In his character as James Hamilton he talks to school groups and individual classes. An authentic stage coach driver telling tales of the gold rush takes B.C. history off the flat page and makes it live.
One can assume that the James Hamilton of l865 was much like his modern impersonator, adaptable, calm, good with horses and patient with people.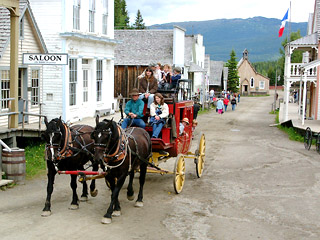 Photo courtesy of Trudy Frisk
Glen's ties to Barkerville go beyond work. His two youngest children were christened in St. Saviour's church. He and his family who still live in Wells, have long been part of the larger Barkerville community, the employees and contract workers who come back year after year and whose children, Barkerville Brats, as they're known, often follow their parents' example, working summers in a town which is as much their home as it is an historic site. Glen's daughter, Angeline, worked at the Wendle House and the Wake-Up-Jake restaurant in 2001. His son Cory drives stage. It takes a remarkable town to inspire such loyalty.
When I look at a stage coach my first question is "Isn't it tippy?" "No", says Glen, "it's not. Driving a stage isn't just a matter of gee and haw. You have to have horse sense, have a feel for what may happen."
Me, "Maybe it's like cross-country skiing. It takes balance, rhythm and the ability to anticipate."
Glen "Yes. It's just like life."
For information call: 250-994-3332
(Trudy is a freelance writer living in Kamloops, B.C.)
Other articles by Trudy Frisk